Justin and Liz Carroll live in a historic 1880 rural farmhouse on nearly 3 acres of land. The young couple moved to Southeast Minnesota from the Minneapolis area with a desire to live out the pastoral dream; kids running around the yard, a garden full of fresh produce, a flock of chickens, a big red barn, and miles of world-class trout streams to fish.
In 2017 the Carrolls decided to establish a native seed mix on 3/4 acre of their property. Their motivation was rooted in practicality. "We're a young couple just starting our family with a big rural property to manage. Mowing a large lawn every weekend is not how we want to spend our time," Liz explained. Less time mowing means more time making memories with their young daughter, Juniper, and newborn baby Jocelyn.
The Carroll's experience is like many of those embarking on a prairie project for the first time. The first few years were met with a bit of skepticism from family, neighbors, and even from Liz. "I would look out to the planting that first year and I just couldn't see what he saw."
With Justin's vision, the project moved forward. However, Liz's concerns are common in the early years of many prairie reconstruction projects.
Establishing a native seed mix is typically a 3-5 year process. During the first year, site preparation must be done. The goal is to remove as much vegetation as possible and reduce the weed seed bank that inevitably exists in the soil. This will reduce competition for slow-growing perennials. Our recommendation is for site preparation to last the entire spring, summer, and fall. Prepare your site by smothering with plastic or cardboard, repeated shallow tiling, or herbicide application. That first year, it's not a pretty sight.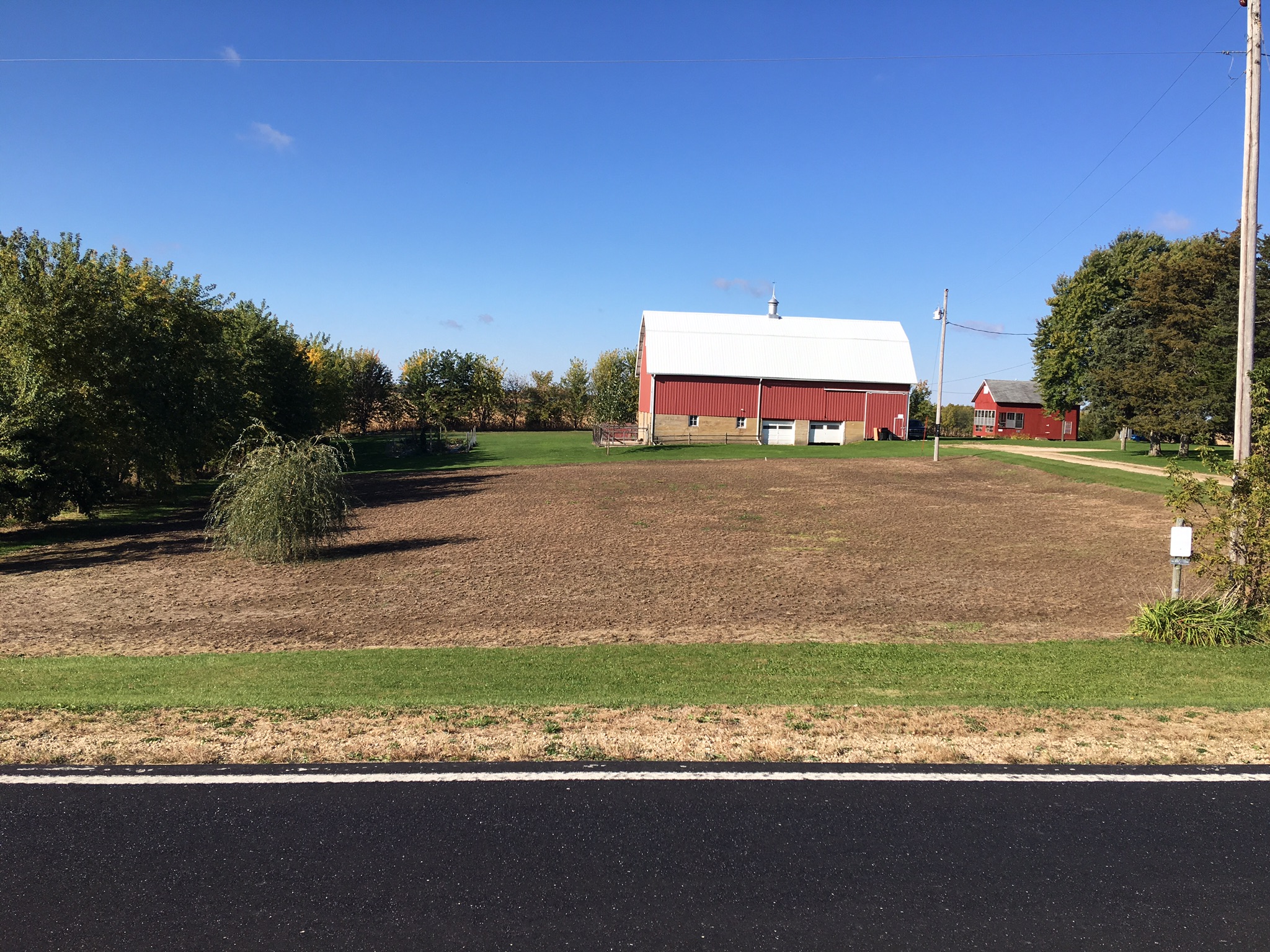 THE CARROLL'S PREPARED SITE LATE-SUMMER 2017
1. PREP YOUR SITE
Remove existing vegetation by smothering, repeated shallow tilling, or herbicide application. For more information on these site prep methods, see our site-prep guide.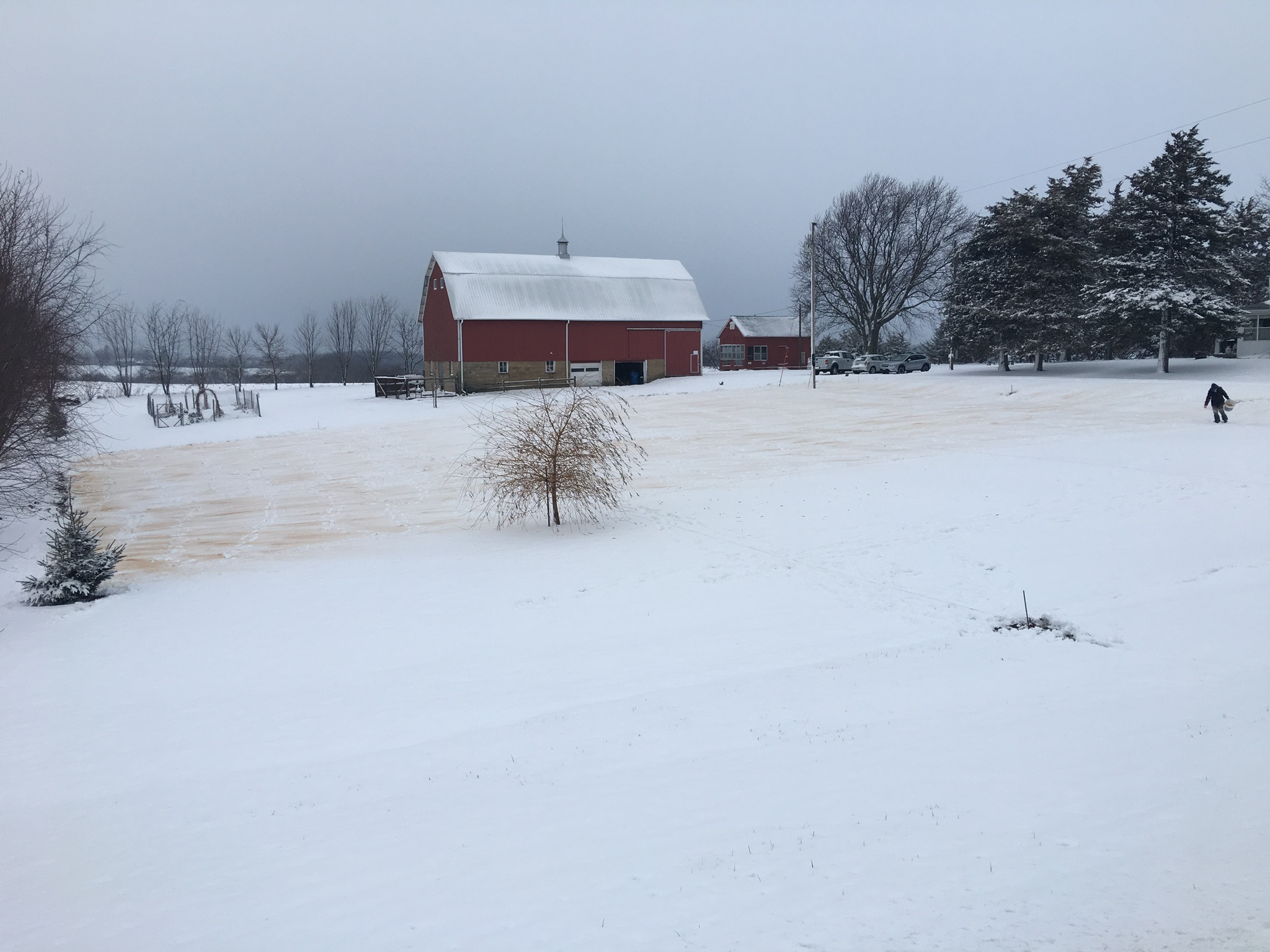 2. SOW SEED IN FALL OR WINTER
Sow seed any time from October through February so dormant seeds can stratify and germinate in the spring. Spring plantings (March-June) are an acceptable second choice, but many wild flowers may not germinate until they can overwinter.
The second year isn't much better. Although young perennials will be growing and the site will green up, there will inevitably be many weed seeds that will germinate along with the native plants. To prevent these annual weeds from growing up rapidly, stealing sunlight and nutrients from slow-growing perennials, the entire area must be kept mowed. As soon as vegetation reaches 8-10" tall, mow at a setting of approximately 5" as often as the growth dictates to help knock back weeds and woody vegetation.
3. MANAGE THE WEEDS
Keep the site mowed the entire first growing season after planting.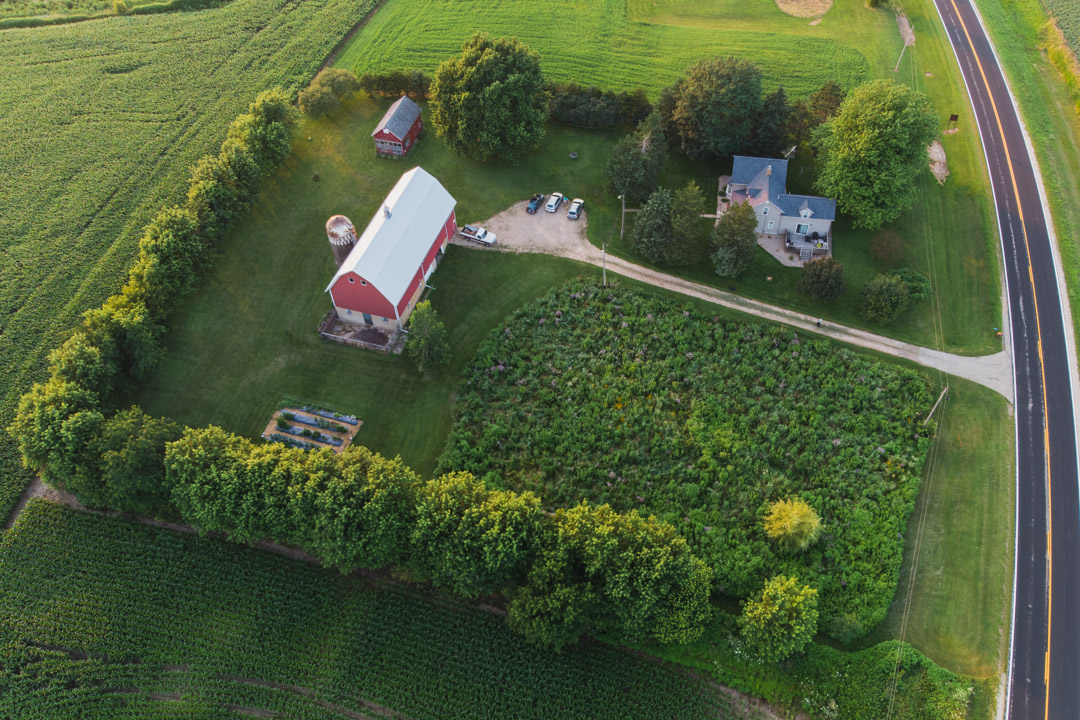 AN AERIAL VIEW OF THE CARROLL PROPERTY SUMMER 2018
As the saying goes, first a prairie SLEEPS, then a prairie CREEPS, and finally the prairie LEAPS!
We had the pleasure of visiting the Carrolls during year 3 of their project, the year when the wildflowers start to bloom. Even though Justin did good site prep, winter seed sowing, frequent mowing, and even a prescribed burn, there are still some species that he needed to manage. He found Giant Ragweed and Canada Goldenrod creeping in among the Purple Coneflower, Canada Wild Rye, and Showy Sunflowers.
"One thing I learned throughout this experience is to not underestimate the weed seed bank," Justin said. We couldn't agree more. Even in situations where the homeowner does everything right, weed pressure will be dependent upon the context of the property in question. There can be years' worth of dormant weed seed in your soil that can appear in year 2.
To manage the Giant Ragweed, an annual plant, we advised Justin to cut them down mid-summer when they are very tall but before they flower and set seed. "At first I was out there cutting every plant off at waist height with a scissors. Little did I know they would just bloom again, but shorter," Justin said. That's when he decided to use a weed trimmer to cut the plants off at the base.
This strategy works well with annual plants like Giant Ragweed, but would not be effective against perennial, rhizomatous plants like Canada Goldenrod. Although Canada Goldenrod is native to North America, it is very aggressive and can easily dominate young plantings. Responsible spot treatments with herbicide can go a long way in preventing Canada Goldenrod or other perennial rhizomatous plants from taking hold. We would not advise pulling weeds in a young prairie. Pulling weeds can disturb the root systems of desirable plants working to establish themselves.
Justin plans to continue his prairie management by removing weeds and doing seasonal burns with his friends in the volunteer fire department.
4. LONG TERM MANAGEMENT
Monitor your site for problematic species. Burning and mowing can help knock back weeds and woody vegetation.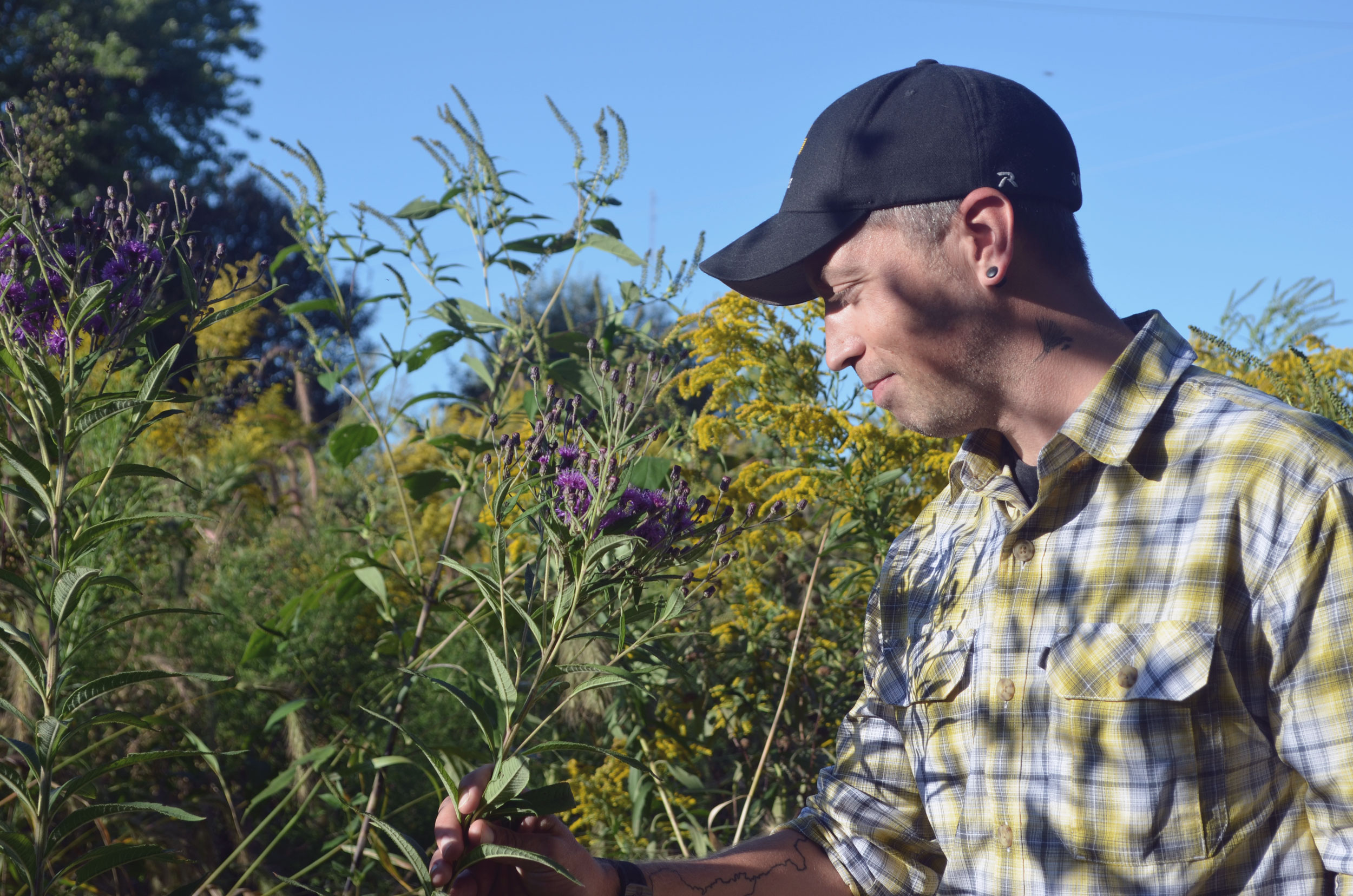 JUSTIN FINDS IRONWEED, A WELCOME NATIVE FROM HIS SEED MIX DURING SUMMER 2019 WEED REMOVAL
Now after a few years of site observation and experience, he plans to diversify his prairie with enhancement seed mixes (link), one for the roadside and one for the tree line.
Over the past few years, Justin has reached out to us at Prairie Moon for advice. "It's these interactions that have been super encouraging. You took your time, without question, and helped guide me. It has encouraged me to be a better prairie manager. We've lived in the country for almost 10 years now, and I've never seen as much wildlife out here as I do now that we've planted the prairie. We regularly see hummingbirds and butterflies. I'm hoping this is just the start."
Establishing a successful native prairie planting from seed is a labor of love and patience. Most who have been through it will praise the process, the thrill of discovery, and the absolute joy in transforming a space into a healthy ecosystem.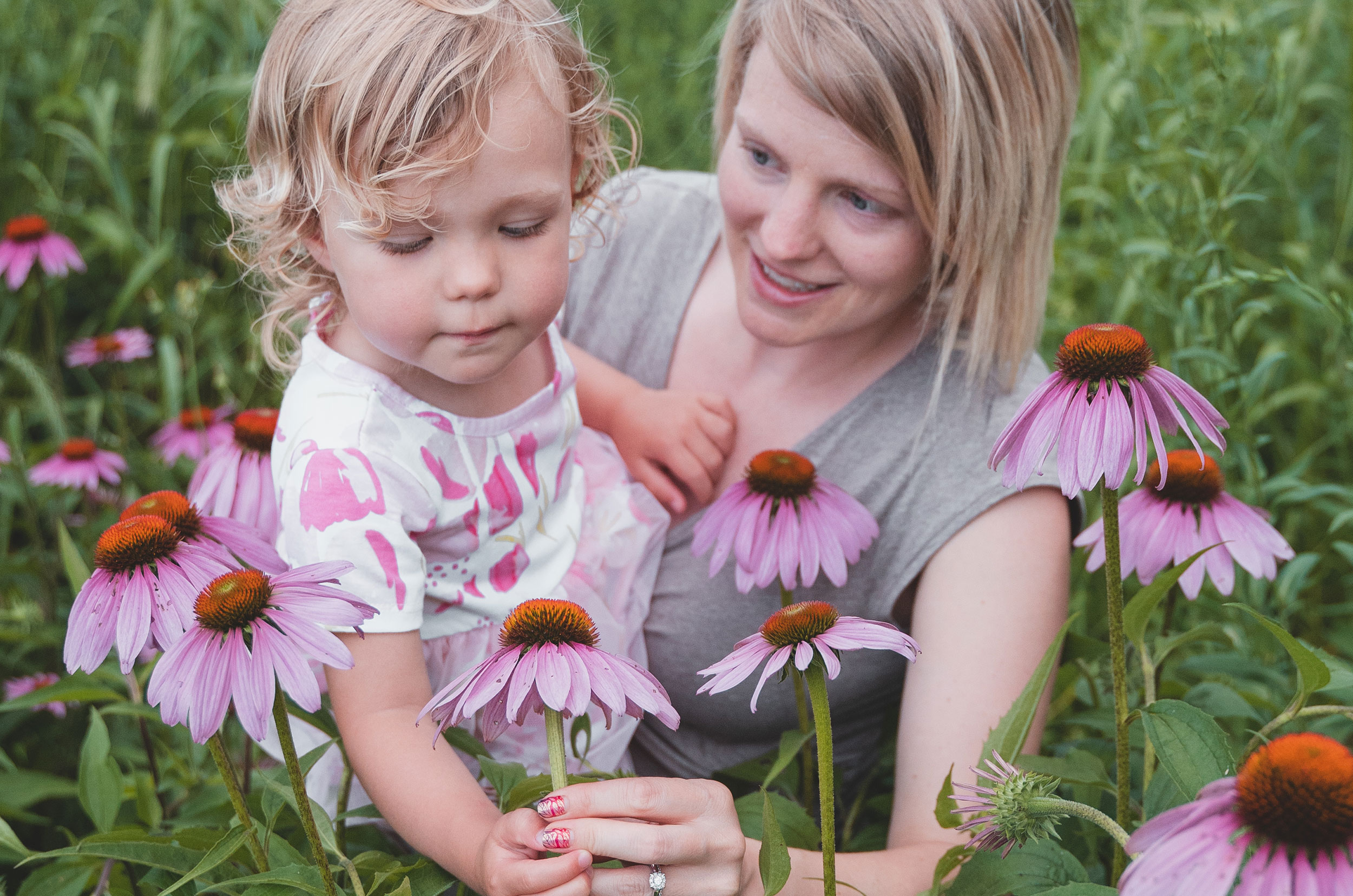 THE CARROLLS ENJOY THEIR FIRST BLOOMS OF PERENNIAL WILDFLOWERS SUMMER 2019
Just like the Carrolls, you too can be a part of the movement to nurture and sustain the living landscape. Whether it's a few square feet or several acres, you can make a difference.