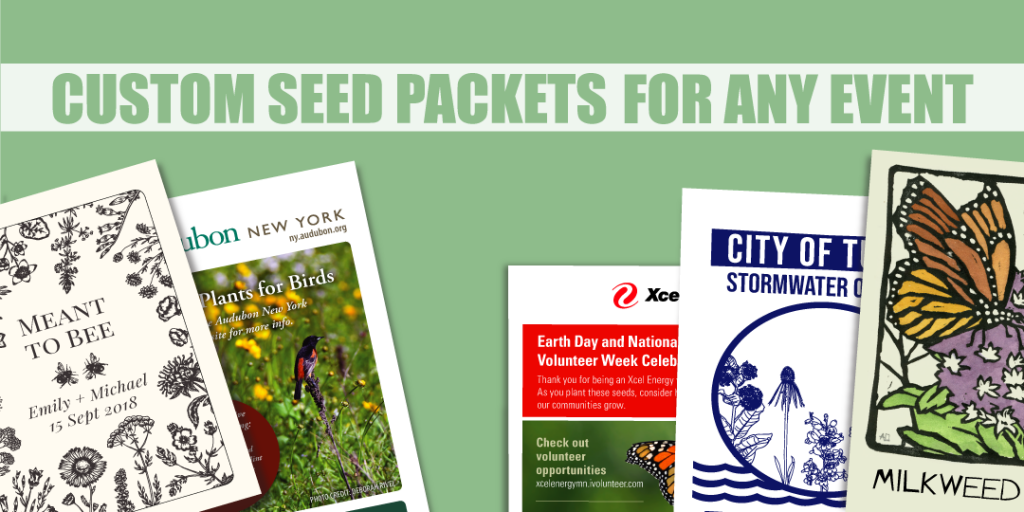 Public outreach, corporate events or wedding and party favors; our custom seed packets are the perfect contribution to your event, or the perfect gift for your guests. Full-color printing and design services augment our large selection of native seed and seed mixes. To make the process easier we have a number of options available, allowing us to provide the seed packets you're looking for, on a timeline and budget that best fits your needs.
Most of our 600+ species can be packaged individually, or request a mini seed mix.
To request a quote for custom packets please consider the following questions and then contact our packet Sales Associate:
How many packets will you need?
When will you need them?
Would you like packets with borders (50 minimum), or full bleed (500 minimum) packets?
Would you like a single species of seed or would you prefer a "mini seed mix"? (3-7 species only)
Please list species of seed (if any) you would like in your custom packets.
Please include any information on how you would like your packets to look.
What is your budget?
Will you provide a packet design, or will you need one created by us?


[email protected]

or direct: 507-205-5298.