As I turned onto a red dirt road and crossed the narrow WPA-era bridge, a shaded road of washouts and coarse gravel opened into bright oak savanna. Upon entering the Wedel property a diversity of ecosystems greeted me; I immediately loved the place. Oak openings on both sides of the lane, leading to upland savanna on the left and saturated sedge meadow to the right. Beyond that a large shortgrass prairie, which I later found out had spurred the Wedels initial love for prairie.
No more than a minute after meeting, we were talking prairies. Their enthusiasm for native ecology was like caffeine and our conversation bounced between plant communities, birds, insects and natural history; but the primary subject was prairie management. At Prairie Moon we frequently emphasize that establishing a native plant community from seed is a long-term process, requiring 3-5 years. It takes rare dedication to see a long-term restoration project expand and thrive; especially over 30 years.
All members in the Wedel family show an impressive patience in successful prairie restoration while maintaining a strong sense of "land ethic," both attributes that have grown and evolved with the farm. (Tom) "When we bought [the property], I knew nothing about prairies. Literally nothing. I grew up in Tennessee, and I was a woods person. I figured if somebody gave me 1,000 acres I could fix it with trees. I was going to turn this property into north woods. Then we discovered prairies and now, if it's not Oak, forget it."
Starting with Prairie Grasses
The Wedel's connection to their land originates in 1972, when Tom and Eva purchased the 398-acre former dairy farm. They opted to rent out portions of the land for field-crop production.  In 1986 the tenant stopped farming and a decision was made to put the cropped areas into CRP. Their county agency offered several lists of cover planting options, one being "warm-season grasses." Tom inquired what these were and the county agent replied, "They're prairie grasses".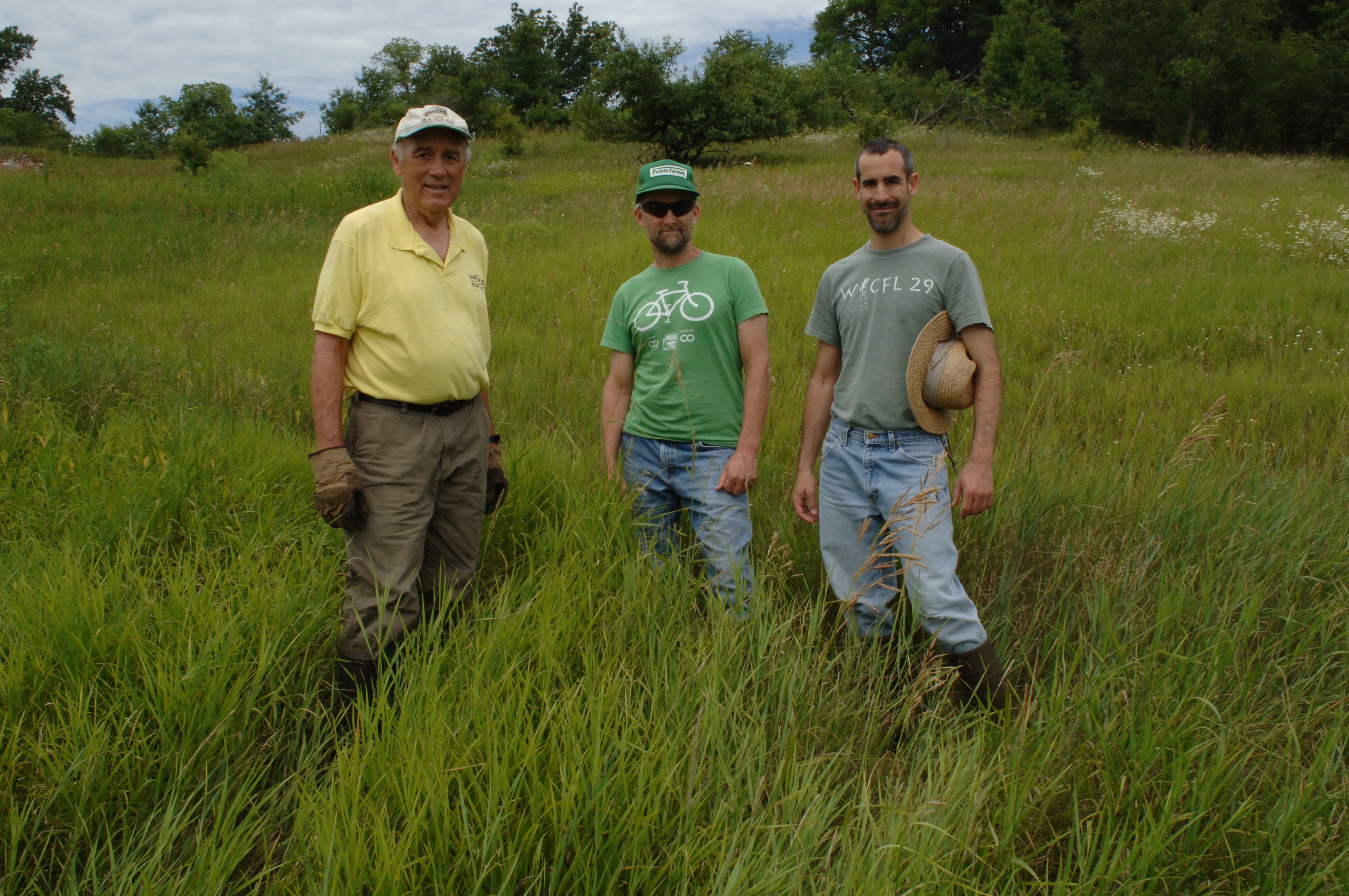 Tom, Andy and husband Adam, standing in a field of brome that will soon be over-seeded with native species.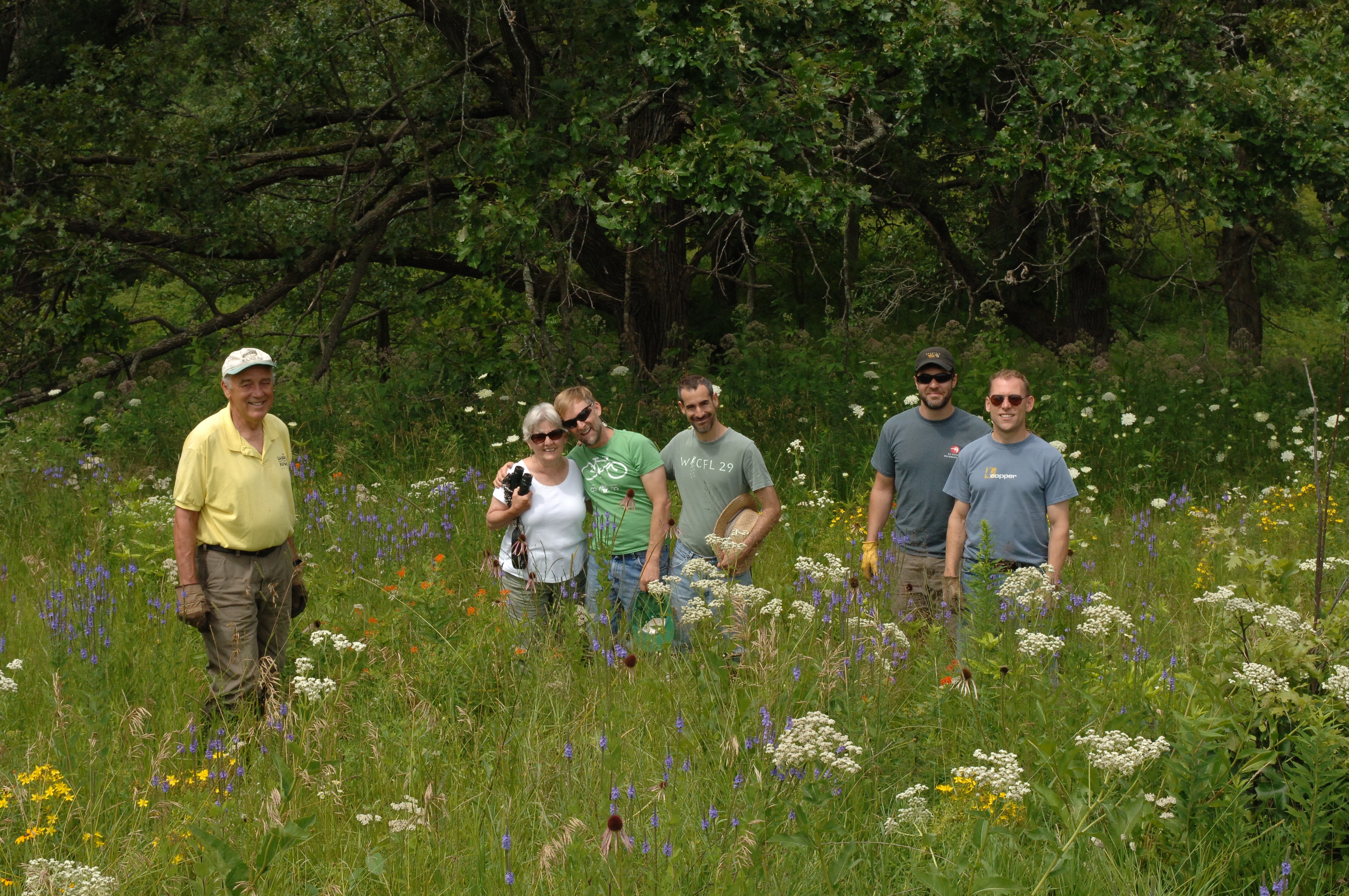 The Wedel Family (L to R): Tom, his wife Eva, Andy and husband Adam,  Davin's husband David, and Davin. Taken in Tom's "Retirement Gift," which was seeded in 2008, after the site was cleared of invasive and weedy underbrush. At the time of photographing (mid-July) the planting showed large stands of Butterfly Weed, Wild Quinine, Hoary Vervain, Pale Purple Coneflower and Prairie Coreopsis.
Unexpected Returns
Along with the list of warm-season grasses, their county agent suggested that "to do it right" they should consider planting forbs (wildflowers) with the grasses. After seeding the initial site with grasses there was $214 left-over. Tom contacted (a young) Prairie Moon Nursery and ordered small amounts of a dozen or so species. This initial planting site (see photo above), has developed into a wonderful plant community. In addition to species introduced as seed, a growing number of plants have appeared that were likely in the soil seed-bank all along.  (Davin) "Since we've been managing [the land] a lot of unexpected species have come up. After seeing [those species] we've had other remnants pop up that we didn't know were there." (Andy) "Most people are going to find that if they have some land that wasn't completely abused for decades, if they start treating it well, burning it, and seeding in native plant [species], they may see some things coming up that they didn't expect."
In the Wedels' case this rings true. Species unseen on the property, maybe in fifty or more years, have appeared and are recolonizing the landscape. For example, following the clearing of underbrush and two controlled burns, an oak savanna area has yielded two species that were never reported in their county.
Fostering the unexpected return of species once  thought to have been plowed away forever requires a patient approach with realistic expectations. A rare model that the Wedels adopted early in the process. (Eva) "[We thought] maybe we should concentrate on what is here, instead of what we can make be here; and then we can supplement [species] later on."
Increased biodiversity starts with native plants, and the resurgence of native species brings with it a greater understanding of ecological relationships. It also brings more responsibility to approach land management with open eyes, open ears and patience.
(Davin) "Over time, it became more and more clear that advice is conflicting, especially because there are many ecological priorities that will naturally conflict. What is good for the Henslow may be bad for the Bluebird. Burning is absolutely necessary, but can harm  the insects. Cutting down the Crab Apples may be right for the Savanna but will remove valuable winter food for birds and animals. The list is endless, and gets more complex the more experience you gain. As a steward of the land I think it is important to develop your own perspective and vision, and have an overall decision-making approach that allows you to take a [long view] of things."
Conflicting advice often touts the broad utilization of fast-acting herbicides. This decision is one that shouldn't be taken lightly and given the fragility of their remnant plant communities the Wedel's have gravitated toward a series of focused and persistent mechanical management techniques. By resorting to judicious herbicide use as a last resort their intentional patience often pays off with the re-emergence of previously unseen remnant species. (Andy) We have never taken the tack of 'nuking' (strong herbicide use) [a site] into complete submission. We've always inter-seeded with no or [limited] herbicide in the spring to discourage new [weed] growth. 'Nuking', works very quickly in the short-term, then there is a lot of disturbance and [it becomes] labor intensive to control the things that come up from that disturbance. So many opportunistic [weedy species] come in; but you do get short term satisfaction.
With perspective, hard work and patience comes a powerful sense of connection and accomplishment.  In our globalized world, where the metric of success favors financial gain it can be difficult to convey the importance of conservation and restoration. (Andy) "It's hard to explain to friends who haven't been here what 'prairie restoration' is and why it's so rewarding. But when they get here, all we have to do is show them two things: first, we take them to one of the old brome fields that we haven't done anything with yet. These fields are smooth in texture, green, and actually very pretty, but they are also very still. Hardly any birds, any butterflies, any sound. Then we take them to one of the nearby restorations, which are richly textured with native grasses and flowers of all colors – and they can see the motion and hear the hum. Birds everywhere, native bees, butterflies, dragonflies all zooming around making the noises of life. We don't have to explain any more after that – they get it."
For nearly thirty years the Wedel family has grown and evolved with the native plant communities they have fostered. (Andy) "Over the course of this journey, our attitude has completely reoriented from, 'how can we exploit this land?', to 'what can we do to help this ecosystem rebuild itself? How can we be better stewards of this little piece of the world?'  Now our purpose in working with this land is no longer primarily about us… and as in so many things in life, when we refocused outside of ourselves, we found more personal joy."
Despite living over 2,600 miles apart, they continue to meet frequently to conduct controlled burns, cut invasive species, maintenance-mow new plantings or collect seed for fall planting. For the Wedels a long-view approach to restoration equates to meaningful time spent together, while positively impacting the land that they have grown to love, one acre at a time.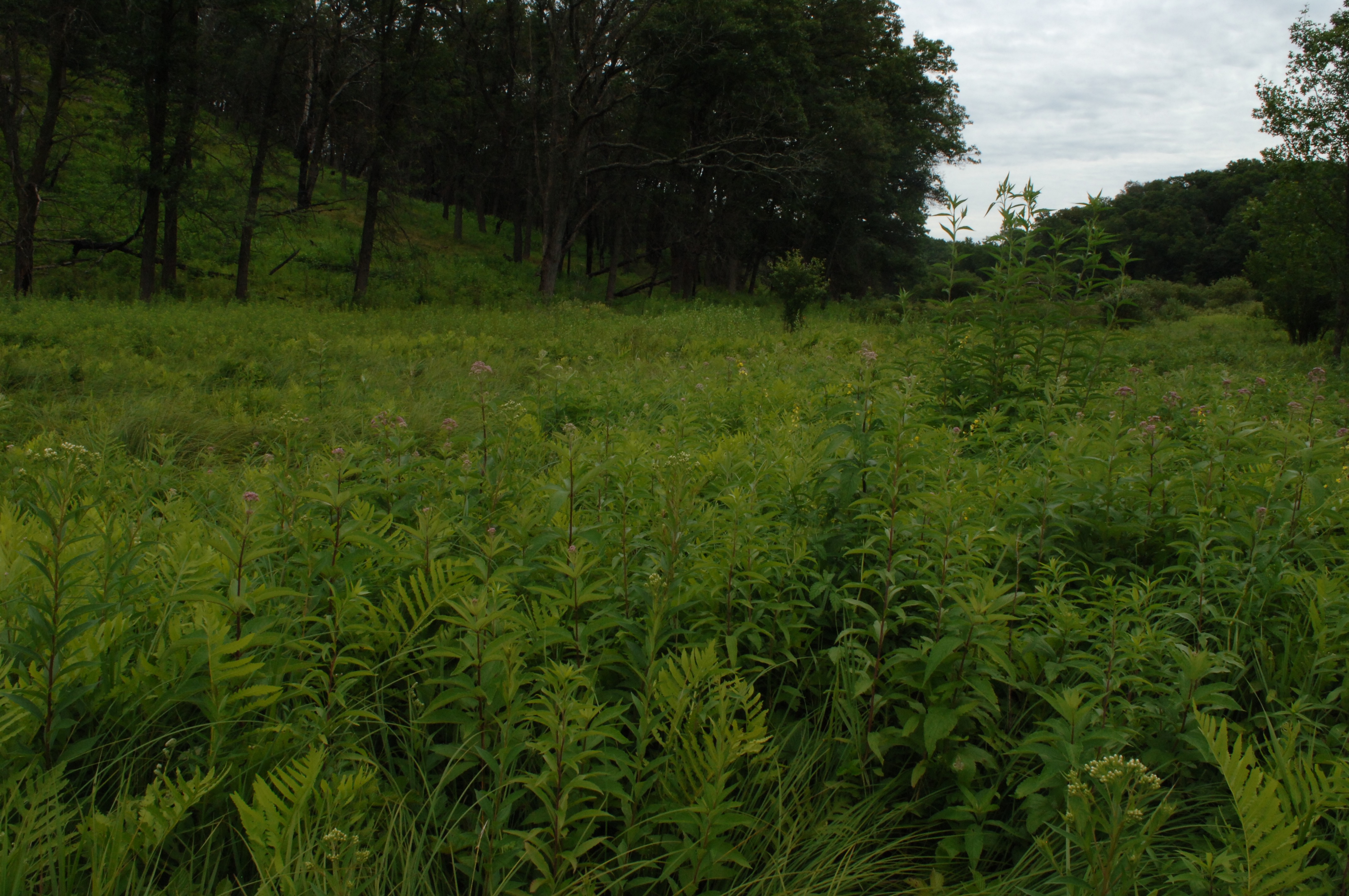 The woodland in the upper-left has been cleared of invasive woody vegetation and burned while the adjacent wetland flourishes after several years of management and over-seeding.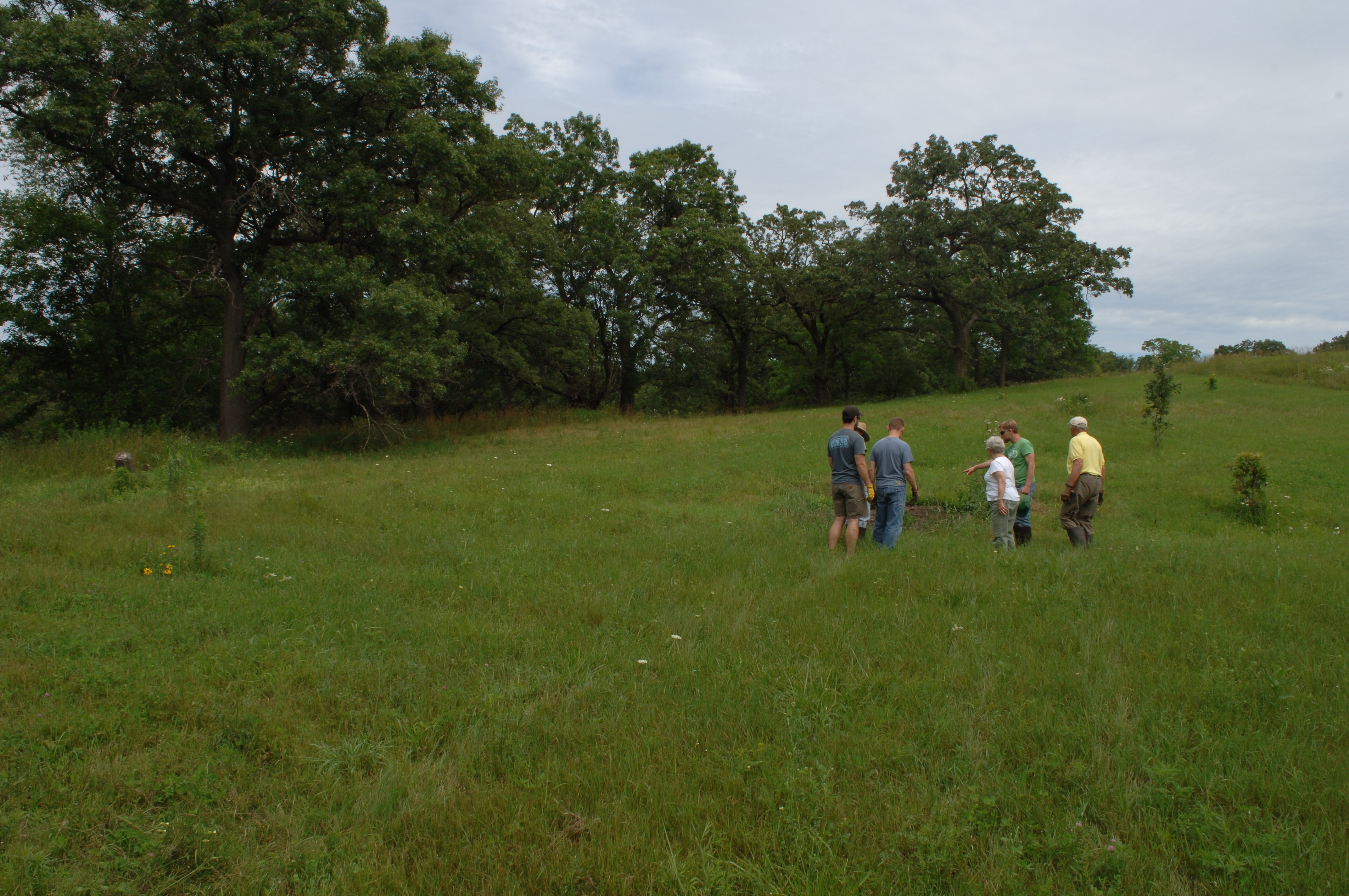 Everyone gathers around a young Lupine, the first seen since this savana restoration was started. After removing overgrown woody vegetation and conducting controlled burns, this area was fall planted one year ago and is being mowed through the entire first growing season.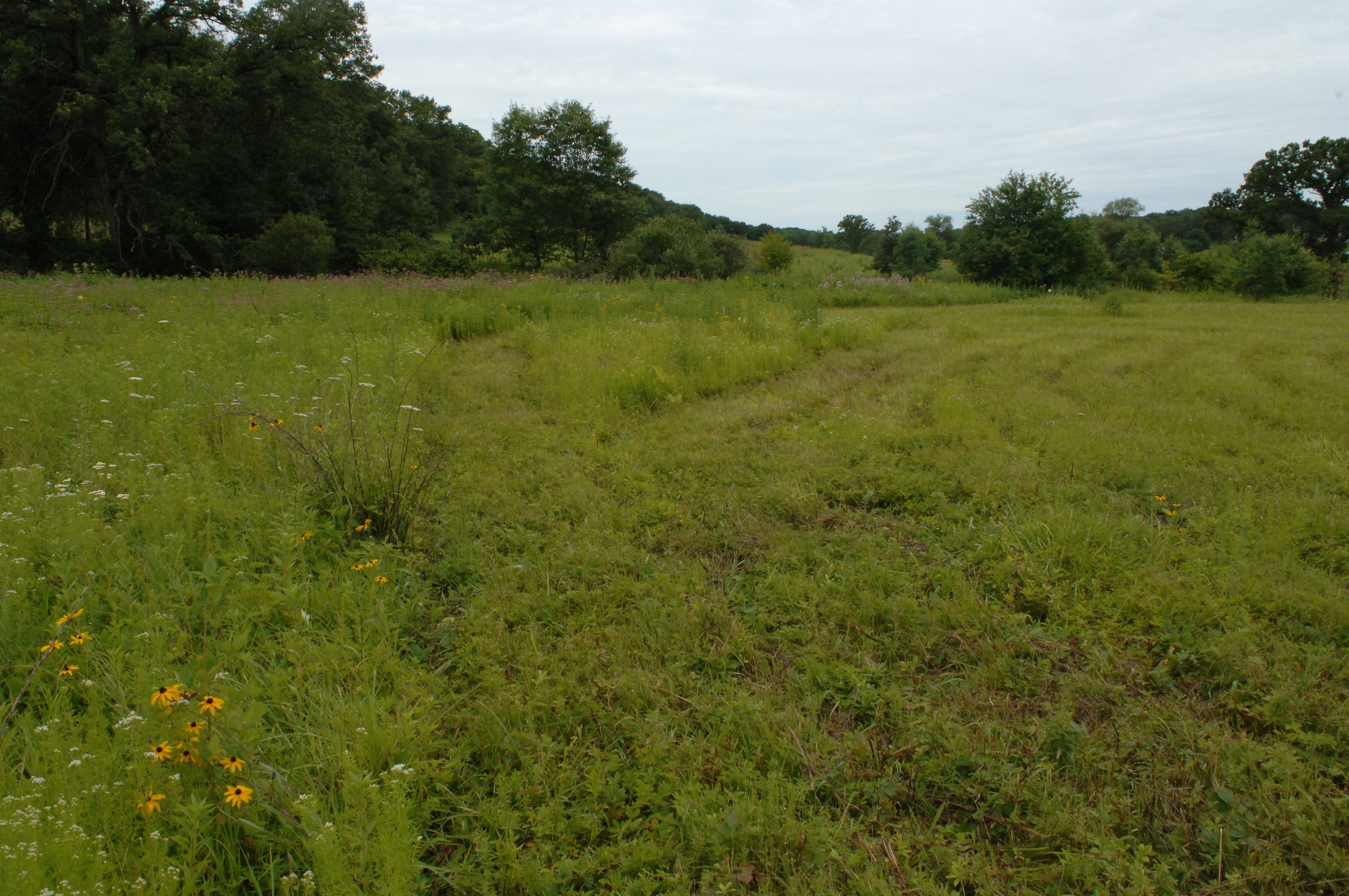 A new restoration project is started with repeated mowing through multiple seasons. Persistent mowing prevents weedy vegetation from dropping additional seed on the site.
The Wedel Family (L to R): Eva and husband Tom, Andy's husband Adam, Andy, Davin's husband David, and Davin. Taken in the initial 18-acre site which was seeded in 1987.